Professional Commercial Drywall Services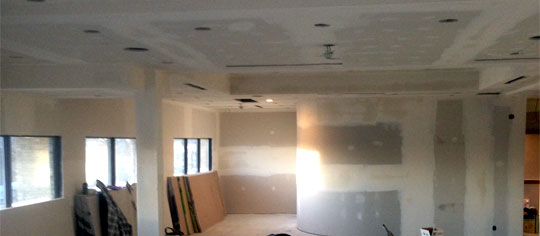 At Sanghera Drywall Contractors, we provide professional drywall services in Calgary, specializing in installing quality wall and ceiling systems, which comprises of boarding, mudding, taping and texturing.

We are experts at installing structural and partition walls, providing professional levels of finish from Level 0 to Level 5, depending on the client's needs. Our workers have high levels of training to guarantee the job is completed accurately and efficiently.

As a professional drywall service provider, we guarantee our work will be finished based on the budgeted time provided, and always with superior quality control.
Drywall Boarding

After the framing is perfect, we know all of the tricks-of-the-trade to install drywall quickly and efficiently to make the taping go smoother and have a better finished product. Whether you're needing large expanses of fireboard or there is a small detail that needs care and attention, we can do that job!

Drywall Taping

We provide Level 4 and Level 5 taping services. If you require rounded corners, ornate custom columns, coffered ceilings, we can provide those services.

Drywall Ceiling Texturing

Popcorn, spackle, knowdown ceilings are common and they only look good if applied properly. If you have a combination coffered ceiling, knockdown feature, then let us show you how good it will look. Feature wall faux finishes, column or beam finishes? We can do that as well.
Call us Today for estimate
(403) 618 9107