Acounstical Ceiling Systems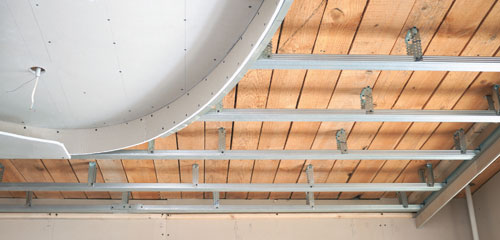 Our ceiling systems are designed for so much more than acoustical control i.e., support building technology, lighting desings, HVAC, security systems and fire protection.

At Sanghera Drywall Contractors we deal with all different types of ceiling projects for your office, business or warehouse. Whether you need T-Bar ceiling, Tile Ceiling or Drywall Texture Ceiling we can do them all with utmost professionalism and finish with in time and budget.
Acoustical Ceiling Systems

Acoustical or T-bar ceilings are also known as drop ceilings, false ceilings or suspended ceilings. They are essentially a secondary ceiling that is installed below the structural ceiling as a means to hide unsightly pipes, ductwork, electrical runways and low voltage wiring for telephone, web, cable TV and audio-visual systems.

These are used most commonly these days in offices, Business and Schools. One popular use of acoustic ceilings is an instant fix for unappealing rooms. Instead of an expensive renovation of a dilapidated ceiling, a grid can be installed in a few hours and acoustic tiles dropped in. Special fluorescent lighting panels which match the dimensions of a single grid can also be wired in minutes and dropped into place.
Call us Today for estimate
(403) 618 9107