Residential Insulation Services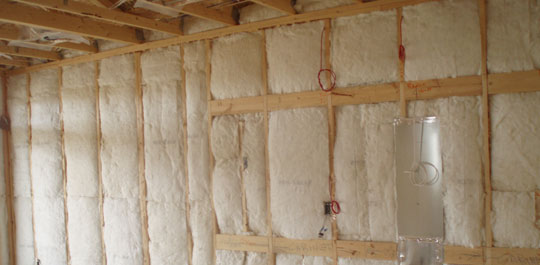 Whether it's fiberglass batts, blown-in insulation, attics, slabs, sprinklers, or any type of spray foam, we can cover all of your insulation requirements. We service multi-family and single family dwellings, spec houses, custom homes and new constructions.

The products that we install are of the highest quality and are installed by professional tradesmen with years of experience. Our past customers can attest to the standard of work done, and with the hundreds or thousands of dollars available in tax credits, there has never been a better time to make these upgrades.

If you have been considering renovations recently, don't hesitate to contact us for a in-home estimate to see how much you can save with an energy efficient home.
Blanket or Batt Insulation

When most people think of home insulation, probably the first thing that comes to mind is the image of a roll of pink fiberglass. This kind of insulation is known as Blanket or Batt, and has been the traditional choice for many years. Its ease of installation has also made it a popular choice among DIY renovators in accessible locations like wall cavities and attics.

Loose Fill Insulation

There are a variety of different materials that can be used as Loose-Fill insulation, and they range in texture from fluffy to granular. Cellulose fiber (shredded newsprint), glass fiber, and mineral wool are the most commonly used substances, and they are usually treated with chemicals to resist fire and fungal growth.

Spray Foam Insulation

Spray-foam, or liquid-foam, insulation is one that is mixed together and then sprayed on in a thin layer and left to expand into the space. Some common types of foam used are polyurethane foam, isocyanurate plastic foam, and phenolic foam, and there are even some "eco-friendly" options emerging on the market as well.
Call us Today for estimate
(403) 618 9107